By BOB HENNELLY    Nov 17, 2020   Updated Nov 24, 2020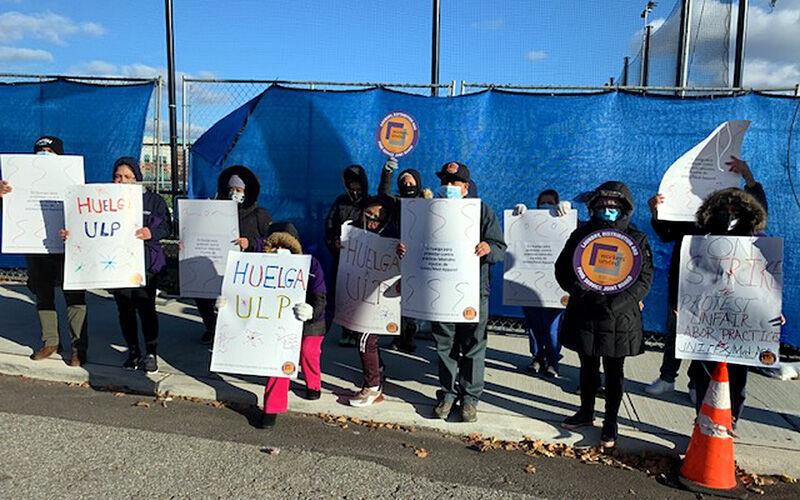 The union representing employees of one of New York's largest hospital-laundry and medical-uniform companies launched a two-day strike Nov. 18 to protest what it maintains were "illegal threats of termination" by the company that are being investigated by the National Labor Relations Board.
The dispute with Unitex Corporation, which operates 11 facilities in the tri-state region, involves hundreds of workers represented by the Laundry, Distribution, and Food Service Joint Board, Workers United/SEIU at the company's Perth Amboy, N.J. facility.
According to the union, the contract expired in March but was extended until July.
Wage, Pension Issues, Too
"Along with the commitment to protections against COVID-19, these laundry workers are fighting for small wage increases, and continuation of a modest pension benefit that costs around 30 cents per hour—a tiny expense that Unitex can easily afford," the union said in a statement. "Unitex is a wealthy company, reportedly earning $150 million in annual revenue as of 2014, yet its owners are demanding unreasonable concessions that may force employees to strike."
A union official said securing workplace protective measures for members gained urgency when three workers assigned to Unitex's Newburgh, N.Y. facility died of the virus.
"Recently, Unitex refused to disclose exactly how many employees of its Perth Amboy facility have contracted COVID-19," the union said in a statement. "And the corporation claims it has 'not measured' the distance between employees, despite a clear requirement to keep employees at least six feet apart whenever possible."
The Perth Amboy facility is subject to an Oct. 28 executive order signed by New Jersey Gov. Phil Murphy that mandates all public and private employers require employees to wear masks and observe social distancing at work. Employers must conduct daily health checks prior to employees' shifts, and excuse sick workers while notifying their colleagues of COVID-19 workplace exposure in a timely fashion.
Under the executive order, New Jersey's Department of Labor and Workforce Development (NJDOL) along with the state's Department of Health, are charged with investigating employee complaints.
Company: Took Precautions
A Unitex spokesperson did not respond to an email or voice messages seeking comment on the union's concerns. According to the company's website, it is taking COVID precautions including the installation of plexiglass dividers in all cafeteria facilities.
"Mayor de Blasio said in a statement supporting the primarily Latina bargaining unit, "They fought on the front lines during the worst days of this pandemic and in return, the people of this city stand in solidarity with them today in demanding a fair contract, retirement security and respect for their sacrifices."
"These essential workers deserve to be treated with dignity and respect, and to work in an environment where they receive the proper protections to ensure their safety," said New York Council Member Ritchie Torres, who was just elected to Congress. "It's time for Unitex to do the right thing."
Vincent Alvarez, the president of the AFL-CIO New York City Central Labor Council, said in a statement. "The entire NYC Labor Movement stands with these workers as they fight for appropriate safety and health protections and defend their right to meaningful benefits for themselves and their families."
Family-Owned Firm
Unitex got its start in lower Manhattan in the early 1920s and has been owned for four generations by the Potack family. It has become a major regional player in the health-care uniform and linen-supply sector, spending $100 million over the last decade to build four state-of-the-art facilities, according to the company's website.
"For thirty years we had a decent relationship with the owner, Michael Potack, and the company really prospered," the union's co-manager, Alberto Arroyo, said during a Nov. 16 phone interview. "But since his son Robert has taken over as CEO, he's been acting like he wants everybody to know there is a new sheriff in town, and things are getting worse by the day."
At a Nov. 11 rally in front of the New York-Presbyterian Lower Manhattan Hospital, dozens of union members turned out to raise public awareness of the contract battle.
"I have dedicated years of my life to this job," said Brigida Vidal, a Unitex employee. "It's very hard work cleaning and processing gowns, sheets, and other linens for hospitals and nursing homes in New York City. But I am proud to help keep these health-care facilities clean and safe every day, especially during the COVID-19 crisis."
'Don't Force Us to Strike'
She continued, "We deserve to be treated fairly. We hope Unitex does not force us to strike and prevent hospitals from receiving the clean medical linens they need, especially as COVID-19 infections are increasing."
Employees clean and process medical linens for many other city-based hospitals affiliated with New York Presbyterian, including Columbia University Medical Center, the Allen Hospital, David H. Koch Center, Weill Cornell Medical Center and Brooklyn Methodist Hospital.
They also process laundry for two Mount Sinai affiliates, Brooklyn Hospital and Beth Israel; Memorial Sloan Kettering in Manhattan; Maimonides Medical Center in Brooklyn; the Hebrew Home at Riverdale; the New York Jewish Home; St. Patrick's Home Rehabilitation and Health Care, and Methodist Home for Nursing and Rehabilitation.